Autumn News 2014
Don't you just love this time of year?  The frosty mornings make the dogs so excited and they have endless mammoth chases over the fields and along the river.  And in the afternoon they tear around farm fields until they are exhausted.   That's how I love my dogs – too tired to be naughty. 
As soon as the sun stops shining the fair-weather walkers disappear and we have our running places back to ourselves.  This means that I can relax a bit and enjoy the walks more: spotting our friend the heron and occasionally glimpsing the dazzling blue of a kingfisher zipping upstream.
I've just realised that I haven't written a blog since July.  Time goes so fast when one is busy.  And we've been so busy.
First I'd like to get the bad news out of the way. On 28th September Kim's Home lost its longest resident.  Zebedee had been with us from the age of 6 months and was only 10.  He became ill one day and I took him to the vet where he was diagnosed with colic.  He was no better the next day and so I took him back.  Still no firm diagnosis.  Later that day I returned to ask for an x-ray – this showed that he had a blockage in his intestine.  The vets operated immediately, removed a chunk of plastic and Zeb seemed to be OK. He was allowed home on condition that I would contact the emergency vet if his condition deteriorated.  He had a peaceful evening while I stroked him.  Every time I stopped he would nudge me to continue.  But about midnight he started to be very ill.  I rushed him to the vets but he died in the van.  That was such a shock.  No-one knows exactly why he died.  I feel he was cheated of at least 5 years of his life.  It will take a long time to get over his loss.  He was such a high profile member of Kim's Home, so very much my dog.  I still say his name in the roll-call for food and treats and say goodnight to him in his bed in my room. 
Zebedee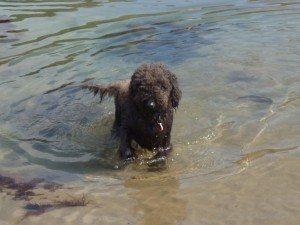 Two other losses that we have had to face – though not so shocking as Zeb's demise:  Twix, the chocolate Lab who had cancer, eventually succumbed when her tumour returned.  Thank you to Alison who gave her such a great time for the last months of her life.
And the other lost friend was little Morris, the Shih-Tsu with a long list of life-threatening ailments.  He was fostered by a kind person, Ann, who lives close by.  She lovingly administered his daily medication, groomed him, pushed him round the park in his stroller and gave him all the love and cuddles he craved.  But sadly Morris started to have fits that could not be controlled.  His kidneys failed and he went off to the Bridge in my arms munching on sausages.  It was a gentle passing.
Morris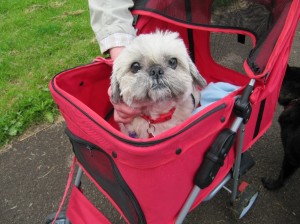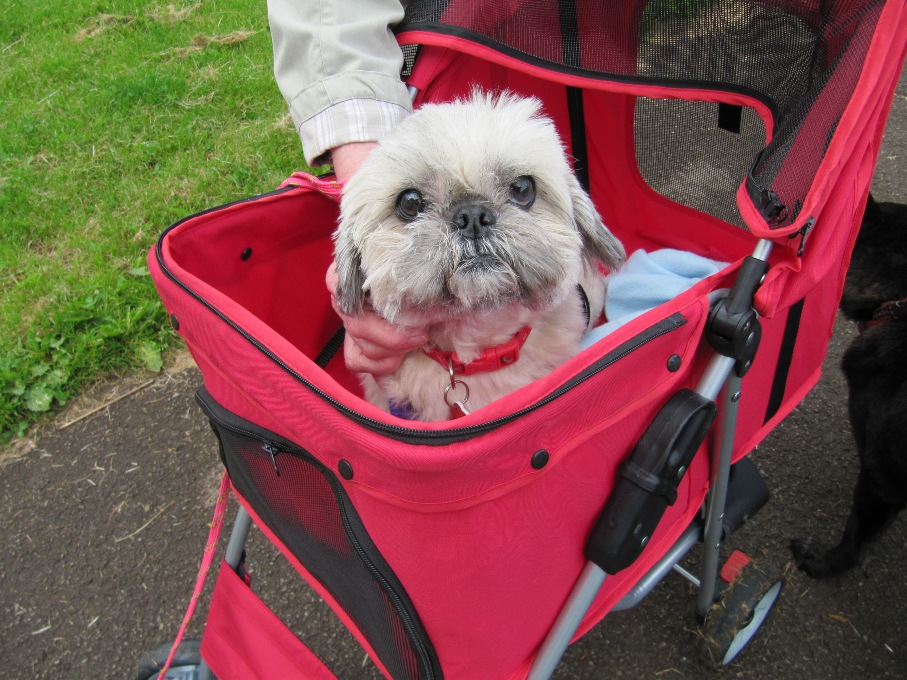 And now to jollier news.
We've had some lovely foster dogs in.  First was puppy Freya. She was a tiny pup who had been thrown out of a car and was brought here by the son of a friend of mine who had saved her.  The puppy seemed fine at first but went downhill alarmingly fast.  She ended up in the emergency vets for several days and we feared that she would not make it.  Facebook followers were amazing and raised the funds to pay for her treatment.  And Freya rewarded everyone by fighting to stay alive.  Soon she was home and making the adult dogs' lives hell.  Happily she went off to a lovely foster home with Hounds First and has since been rehomed to a lovely family.
Puppy Freya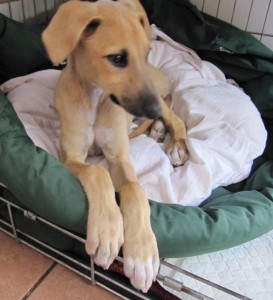 Then we thought we were done with pups.  But no, another came along.  He had been picked up as a stray and taken to the pound.  His legs were crooked and the pound felt that they could not re-home him in that condition and asked me to have him.   Not exactly elderly but I suppose he had been abused.  I called him Rafael and he delighted us for quite a few weeks. With a good diet and a happy life his legs straightened and he became a normal, happy, energetic pup. 

Lurcher SOS

found him a lovely home in London and he now runs his socks off on Hampstead Heath with his lurcher sister and many, many friends.
Rafa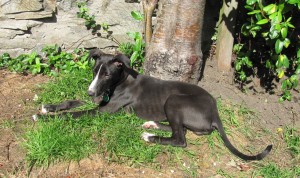 We have had our share of oldies too: Marbles, an elderly Staffie, spent months at the pound where he was always passed over for adoption.  But a Facebook appeal found him a great home in Glasgow with Lynne where he is doing so well.
Molly, another allegedly elderly Staffie, who was being fostered for me in Bristol, had to leave her foster home because circumstances changed.  So she came to Kim's Home where she seems to be very much at home.  This was the dog who had a pyometra, a wound breakdown, persistent E.coli infections.  She is now bombing around chasing Salukis and having fun.  She is supposed to be 13 – I really don't think she can be.  We are still teaching her some basic manners but she is a good learner.  She is such a sociable dog and has to say Hi to every person and dog that we meet on our travels.
Here she is chasing Saluki Nell!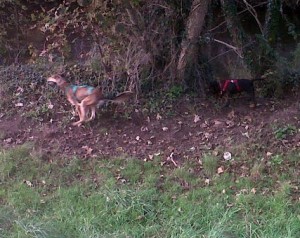 Just 2 weeks ago, a Facebook appeal found a wonderful home for Maggie, an elderly Collie, who has gone to live with Jude and Graham in Staffordshire.  There were a number of excellent home offers for her.  The power of Facebook in reaching good people is awesome.   I often get contacted by people who need to re-home their dogs for one reason or another.  Sometimes I can help.   But again it's usually our Facebook followers that come up trumps.  That's how James, a lovely rough-coated lurcher, found his new home.
Other fosters that we have had in include Willow – a 6 year old Lurcher who was on death row in a pound in Sunderland.  Thanks to an epic transport run by David, Willow was brought to Kim's Home.  She has been spayed, vaccinated etc and will soon be off to her new home.  She is being adopted by the same lovely people who adopted Daisy, an earlier foster.   She will have a great life.
Willow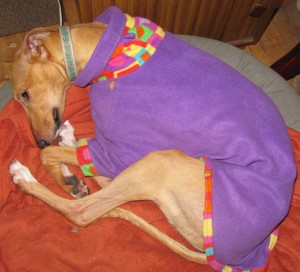 We also currently have Louise, a big, black, rough-coated Lurcher about 5  years old.  She was picked up as a stray, has bald elbows, rough, raw patches on her chest where she has been kept on hard surfaces.  She currently has kennel cough.  Once she has been sorted at the Kim's Home spa, she will be re-homed via

GRWE

.  She was supposed to go to their kennels but the Kennel Cough put paid to that.  And the pound didn't want her to stay because they are so over-crowded, which is why she ended up here.  She is such a lovely girl and will make someone a wonderful companion when she has been given some tlc, a good diet and some basic training.
Louise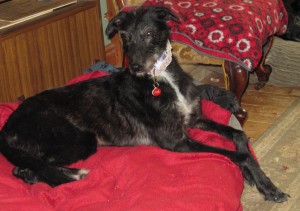 In September we had our usual week away at Four Acres, part of

the Little Dumpledale Farm

holiday complex in West Wales.  We had a grand time.  The dogs scream with excitement when we arrive there.  They have such a good time tearing round the enormous garden, the paddock and enjoying fun on the beach.   I wish we could live in Four Acres – my ideal home.
Beach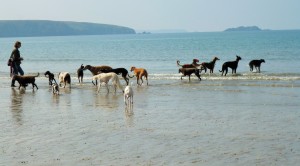 At the end of October I had a few days away from the dogs.  My wonderful daughter came to look after them while I paid a lightening trip to Chicago to visit my first grand-daughter.  I flew out on Friday, and flew back Sunday night.  But I packed a lot of cuddles into the time I was there.  And my daughter, Francesca, and my kind friend, Caroline, looked after the dogs superbly.
I usually end my blog with an appeal for funds.  But another friend, also called Caroline, very, very kindly ran an online auction for Kim's Home last month.  And it raised just over £2,000.  And Charlie also ran a fund-raiser.  So we have a nice buffer against emergencies at the moment.  So I won't be asking for funds just yet.  But we know how quickly vets' bills can run away with money.
But I would like to make an appeal…… for you to vote for Dylan/Bill.  Bill and Ben were 2 lurchers who were found starving and riddled with mange by a kind man, Bryan Butt.  It seemed unlikely that they, Bill particularly, would survive.  They were taken to Croft Rescue kennels and given excellent care and nursing for many weeks.  And they both survived.  The pound they were in is the one that I work with to re-home their elderly dogs.  So I was able to visit Bill and Ben while they recuperated and take them food.  And when they were ready to leave, they were gifted to me.  At this point I passed them to

Hounds First

who took over their foster care and found them wonderful forever homes.  Bill, now called Dylan, has been shortlisted by the PDSA as rescue of the year.  So please follow the link and vote for Dylan by texting the name Dylan to 70099.  He so deserves to win.
Finally, Kim's Home would like to wish you all a very Happy Christmas and New Year.  Wouldn't it be wonderful if there were fewer dogs abandoned and abused, fewer puppies bred, fewer oldies dumped in 2015!  Alas, it won't happen.  As I drive around I see people everywhere walking new pups.  And many will be given as Christmas presents.   So this is the season for dumping the old dogs to make way for the cute pups.  And in February the pups will have lost their cuteness and they too will be on the rubbish pile.  And so it goes on and on and on.  So I thank you all for helping me and other bigger rescues to salvage these poor dogs and give them the good life they should have had from the beginning of their lives right to the end.  
Dogs in the garden at Four Acres