Kim's Home News July 2015
July already!  So it's time to do a round-up of the goings-on at Kim's Home.
First of all, the cast:  Here they are in order of length of stay:
Ruby, red lurcher, aged 11, been here 9 years, rescued from a traveller home where she was found tangled up in barbed wire hanging from a wall. Re-homed but bounced.
 
Bayleaf, brindle Greyhound, aged 10, been here about 9 years. Was being taken up the mountain to be shot at 8 months, but someone phoned me in time. Re-homed but bounced
 
Shayla, grey, rough-coated lurcher girl, aged about 13. Was rescued from Ireland, unwisely homed, dumped in a pound, re-homed, given up after 3 years and finally came here where she belongs.
 
Grace, blue Whippet cross, aged about 8. Came in from a gypsy/traveller site as a skeleton 6 years ago weighing just 9 kilos; got well against the odds and has stayed forever.
 
Griff, he arrived from a the same place at about the same time – a blue, Whippet x terrier, aged just 6 or 7 weeks and already fending for himself. Re-homed but bounced back. Now 6 and a half years.
 
Tom, about 16, liver and white Spaniel. Arrived from travellers 13 years ago – looked old then. Re-homed for 8 years but owner developed dementia. Tom still sees her every week in her care home.
 
 Zoe, cream Saluki, aged 12. Came from travellers aged 8 with pyometra and mammary tumours. Fine now.
 
Hebe, White and fawn Whippet, aged 4. Arrived as a pup from Gumtree, offered to a Whippet rescue but after 5 months no home had been found. So she stayed.
 
George, tricolour Jack Russell, aged 11. Came from travellers 3 years ago. Had been stolen 5 years previously. Owner agreed he could stay with us
 
Emma, black and silver Saluki cross, aged 5-ish. Lived feral for a year in the vicinity of a traveller site. Took me 3 months to gain her confidence so that she could be caught. Will always be a scared dog but happy at home and great off-lead
 
Lucy, black-fringed red Saluki, aged 6, came from a shed on an allotment in the NE. Used for breeding. The most terrified dog we've had.
 
Nell, black-fringed, red Saluki, aged 5. Came from a local working home. Terrified of men but more relaxed generally nowadays. With Lucy she forms the Red Devils or the Evil Twins
 
Charlie, black with white lurcher, aged 2. Came in as a starved, beaten dog from local traveller site. No-one offered him a home – so he stayed.
 
Dolly, ginger terrier, aged 15, found as a stray and not claimed by her owners. So pound passed her to me
 
There are also 2 little stowaways – Stella and Arthur – more of them later.
And foster dog, Lottie – more of her later too.
17!  No wonder I'm tired and frazzled.  But we did peak at 19 a few weeks ago. So things are getting easier.
 I'm Wendy by the way (not Kim), their devoted handmaiden.
So what have we been up to since the beginning of the year?  I guess the early part of the year was dominated by Molly, our elderly Staffie's struggle to overcome her health issues.  Her fast-growing mammary tumour was removed but the wound broke down leaving a big gaping hole.  Against the odds, this healed with amateur nursing from me and a lot of cooperation from Molly who learned to roll over on command so that I could flush out the hole. Then just as the wound closed over (my vet said he was gob-smacked), she developed very painful back problems.  The pain was uncontrollable.  The cancer was growing again.  So I had to take the decision we all dread, and Molly left us peacefully on my lap at home while eating treats.  We miss our little powerhouse of a dog who overcame so much but lost the last battle.  A pox on the person who bred her half to death and then dumped her!
 


Another of our oldies has also left us:  Pixie. She arrived on 2nd June 2014 and left on 2nd June 2015.  She was totally deaf, with failing eye-sight, and had dementia.  That showed in her constant pacing, random weeing and pooing.  But she still enjoyed her food and her walks.  And she loved the cuddles she got all evening.  But one day something very painful arose – she was too far gone to wonder what.  She left peacefully eating sausages.
 
Two days before Christmas Lottie arrived.  Found as a stray on the streets of a town in the North of England. She was taken to a pound but not claimed.  Her seven days were up and so was her luck.   I asked Laurie of Lurcher SOS if she would give her rescue back-up if I fostered her.  Laurie agreed and so she came here.  And that's when we discovered that all was not well with Lottie.  Two of her legs on the same side had suffered traumas and were seriously deformed.  To cut a long and expensive story short, Lottie needed operations to ensure she was pain-free and could walk and run properly.   So far she has had a toe amputated on her back leg and has had her front wrist fused.  We are in week 3 of a 16 week endurance test.  Lottie is being very patient and amenable.  She is a lovely dog and will be looking for a home once her legs are sorted.  She has specified that she would like a man, please.  She drags me to all the men she sees when we are out.  If I were on the pull she would be a real asset.
 
Kim's Home also took in Louise, a rough-coated lurcher, who found herself in a local pound.   A rough diamond but with a good heart, she was given rescue back-up by GRWE and soon found her perfect home.
 
Then life turned upside down. 
This is the story of Rosie and the pups.
It all started one day when I saw an ad for 3 Saluki pups on Gumtree. Every day I trawl through the ads to find the FTGH (Free To Good Home) dogs in order to warn the owners of the cruel fate that they could be condemning their dogs to.
The pups looked very small. There were pictures of the Dad, a handsome red Saluki, and the poor mother being mated by the male while both chained to a tiny kennel.
Buying pups is not what one does in rescue. I haven't done it for twelve years but these dogs haunted me. I had a feeling I knew the breeder. A few enquiries gave me the information I needed. The breeder was a known dog abuser and dog thief who lived on a nearby gypsy/traveller site. He had recently tried to steal some rescue lurchers belonging to my friends. His last litter of pups had died of cold. And here we were in January and he had tiny pups.
After some soul-searching for about five minutes, I decided to buy one of the pups, preferably a bitch, to give her a chance of a good life. I mentioned this on the Lurcher SOS forum. Suddenly I was overwhelmed with generous offers to help get the other 2 pups out as well. So it was decided that I would try to get all 3.
No way would a gypsy sell a dog to do-gooder woman who kept dogs as pets and so I used an intermediary to buy the pups and to get the price knocked down. And so I ended up with 3 small scrawny pups that had worms, mange and campylobacter and moreover were too young to have left their mother. After a few days of hell and mess, the 3 pups went off to Surrey to be fostered by a Lurcher SOS angel.
But……the three I had were not the 3 in the picture. Where was the cream one pictured? Back to the intermediary who found that one of the pups had been sold but taken back because the buyer hadn't paid. So I arranged to buy that one too. He arrived but he wasn't cream. So again where was the cream one? I was chatting about this to my gypsy contact and was a bit taken aback when one of his young sons piped up to tell me that they had a lovely cream bitch puppy. My pal (who had first inspired in me the love of Salukis) just couldn't resist and had bought one for himself. By the end of the day that one too was with me. She'd spent a night on her own in a filthy, cold stable, fed on cows' milk and played with by feral toddlers. She was a poor little scrap. I decided to foster her and number 4 until they were well enough to be re-homed.
But we hadn't finished. The breeder decided he didn't want the pup he had kept and so offered it for sale. Madness had really set in by now. So I bought her. This one was shipped off to Surrey to join her siblings. The four in Surrey were given posh Persian names: Faris, Nouri, Sami and Minoo. The Cardiff Two were more prosaically Arthur and Stella.
And that is where the story could have ended. All pups safe and cherished in foster homes waiting for their forever homes. But I could not get the picture of the pups' mother out of my head. I asked my pal to see if he could get her too. He said he would try. A few days later he rang to say that he couldn't get the mother because she had been dumped. He didn't know where. Her only chance was that someone might have picked her up and taken her to the local Dog Pound. I rang them and, yes, someone had picked her up and brought her in. She was in a poor state and the pound would not release her until she was well – she was bleeding from mange and general neglect. About a week and a half later, the dog, now called Rosie, was gifted to me, thanks to Cardiff Dogs' Home and the Friends of the Dogs, Wales.
The next step was to get her to a Lurcher SOS foster home. I appealed on Facebook for someone to drive her to Surrey. A kind person volunteered and I phoned her to make the necessary arrangements. She told me that she was a volunteer dog-walker at the dog pound. She had become particularly fond of a cream Saluki bitch they had in. Imagine her surprise and pleasure when she learned that it was that very same dog that she would be transporting to her foster home. That was the first coincidence in this story.
So Rosie, as the pound named her, went off to her foster home. She settled well and soon adjusted to a pampered life of kindness, good food and comfort. She was recently spayed and will be up for rehoming soon.
The story doesn't quite end there. I received a phone call a few days later from a friend of mine who is a Dog Trainer and Behaviourist. She had been out on a consultation with a person who had 3 rescue Bichons. At the end of the session, they chatted and the Bichon owner told my friend about a dog that she had picked up on a busy industrial road and taken to the pound. From the description and the photos she had taken it turned out to be Rosie. What are the odds, eh? My friend was able to tell her that Rosie was safe and in a foster home. And the name of Rosie's saviour? Well, Rosie, of course!
And here is Rosie's account of the day she rescued Rosie.
"That was such a crazy day, I was on my way back to work after lunch and saw a dog running in and out of traffic. I turned around at the roundabout and pulled up in the entrance to the boat club opposite Tesco's turning. She was terrified and confused so I had to stop the traffic and herd her up the road to the boat club. I managed to get close to her and put the tie from my jacket around her. She just cowered but let me gently lift her into my car. I'd already been on the phone to the Dog warden and they asked if I could bring her in as I was so close to the gypsy site (and in dangerous territory). I've attached a couple of pics of the 'rescue mission'
"Even though she was in such a poor condition and at first terrified, she became very calm, almost as if she knew she was going to a good place.
"One of the saddening things about that day was the lack of help, the road was full of traffic but only 1 car stopped even though I was a female on my own. Hopefully people will read the full story and see what can be achieved if everyone pulls together, a very happy ending for Rosie and her pups".
So many people have been involved with the rescue of Rosie and her pups. And they are certainly worth the time, money and effort.
And here are some photos of the stars of this story – the canine stars.
The Surrey Four Sami, Faris, Nouri and Minoo (all rehomed)

The Cardiff Two, Stella and Arthur trying to look cute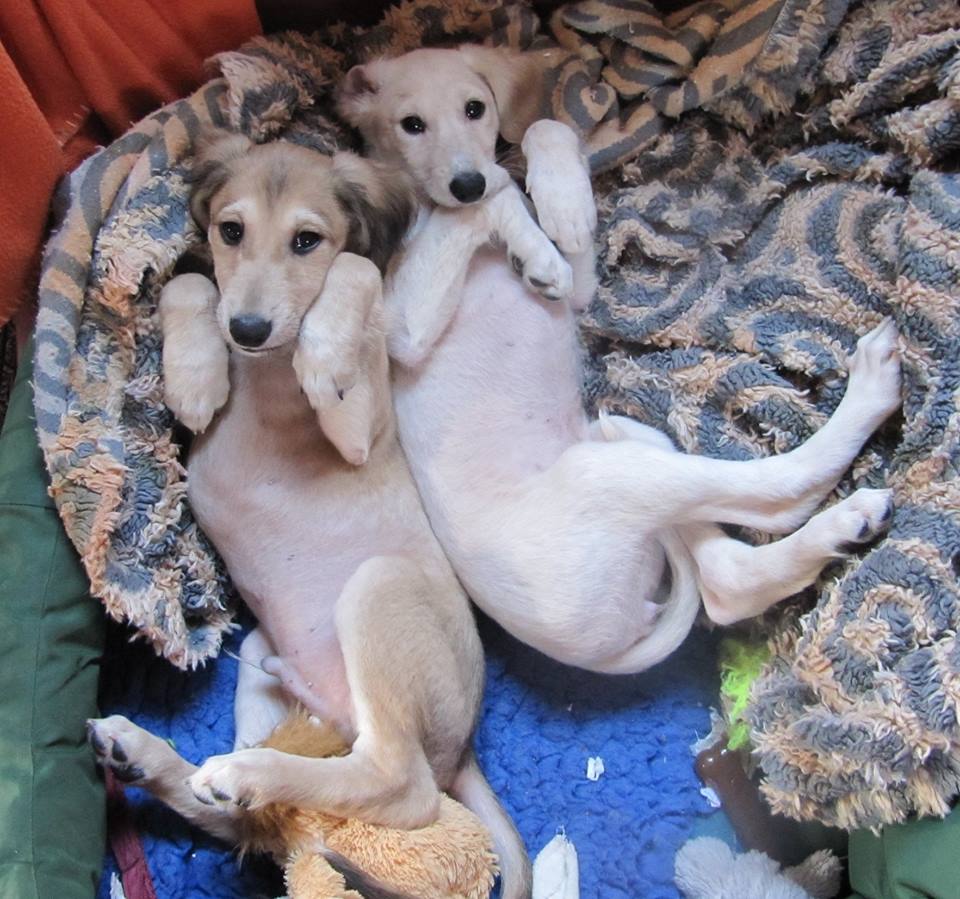 Rosie as she was when Rosie picked her up
 
Rosie as she is now

And Rosie's little clone, Stella, the elusive cream pup, who now lives with me after bouncing from her home with an ASBO. There are plenty of dogs here to keep her in order.
 
Job well done by rescuers, fund-raisers, foster homes, Cardiff Dogs Home, Friend of the Dogs, Wales, transporters (one of whom went all the way from Cardiff to Edinburgh to get Arthur to his home), Lurcher SOS. You know who you are – thank you so much!
 


Other dogs that passed through were Fliss, a lovely cream, rough-coated lurcher, who came from a gypsy/traveller site.  Lurcher SOS gave her rescue back-up and she flew out to her new home after a few weeks here.
 
There was Clyde, the elderly terrier, who was picked up as a stray and was stuck in the pound with no interest.  We put out an appeal for a home for him and he was adopted by Gemma Ahearne and her lovely dogs.   He is now called Howie and is amazingly rejuvenated.
 
And then there was Polly (real name Dolly but we already have one of those).  I saw her advertised on Gumtree FTGH (Free To Good Home).  The ad said that she had to be gone that day.   I phoned the advertiser and explained the dangers of giving dogs away willy-nilly.  Her reason was that her elderly neighbour had died and that the relatives did not want to look after her dog.  So they sort of dumped her on the neighbour (the advertiser).  It's convoluted, isn't it?  Anyway, within 24 hours, the person who now had the dog realised that she couldn't cope.  Hence the ad.   I suggested that the dog could go to the local Dogs' Home – better than an uncertain fate with a Gumtree opportunist.   But it costs £50 to hand in a dog and the advertiser couldn't afford that.  So I said that Kim's Home would pay the fee and that I would take the dog in.   Sorted.  Or not.  On the way I rang the Home to say that I was bringing the dog in and that, by the way, she had a large mammary tumour.  The person on the phone then told me that they couldn't take her in that case.  Let's skip the irate response from me – you can imagine that quite well, I'm sure.  The dog came home with me.  She was spayed and the lump removed.  It was benign and Polly was fine after a couple of weeks.  Best news ever – she's been adopted by a dog-walking friend of mine who has 2 similar terriers.  Polly has now reverted to Dolly and is having a great life.
 
And so life at Kim's Home goes on.   In a few weeks' time I lose the locked field that I've had sole use of on weekends for the last 15 years.  So I am frantically trying to find a replacement – 2 or 3 acres of land that I can buy (gulp), rent, borrow.  I would pay for it to be fenced safely.  So, if you know of anyone who has a parcel of land within a ten mile radius of Cardiff and which would make my dogs very, very happy, please get in touch.  They run free twice a day anyway but it is so relaxing to be able to take them all together on the weekends to a safe place where we are not disturbed. 
Many, many thanks to all the supporters of Kim's Home, especially my daughter who hares down from London to help out when there's a crisis; Caroline Cowan of Cardiff Canine Citizens, who gives me free dog-training classes, invaluable advice on all matters canine, helps enormously with fund-raising.   I couldn't do it without her.  But then, as I've often pointed out, I probably wouldn't have to – since Caroline is responsible directly or indirectly for most of the dogs in the house over the last 17 years.  She was the first person who took me to a Gypsy/traveller site.  Consequently I have had hundreds of dogs from the gypsies.  And then she became a Dog Warden…….she would telephone me and say emotionally blackmailing things like:  "there's a little old dog in the pound, she is going to die soon.   No-one is going to want to adopt her".  And so the dog came to me and lived happily for another 5 years and gave me plenty of scary moments in those five years.  But that was the start of the oldies, I suppose.  So Caroline, I blame you for all of it!   But, don't worry, it's been a blast!
And now the grovelling bit:  if anyone would like to help me to continue the work of Kim's Home for Elderly/Abused Sighthounds by making a donation of money or stuff, then I would be very grateful.  Ways to donate funds are on the (very out of date) website: 

Kim's Home

  on the Donations page.  And if you prefer to donate things that we need, I promise that I will do a wish list.  The things we use most are mobility supplements like Yu move and also foods that old dogs can digest well like Liquivite.  We don't need beds, clothes or collars and leads.  Oh, and a field would be very welcome!  Thanks again from the Kim's Home crew