Sally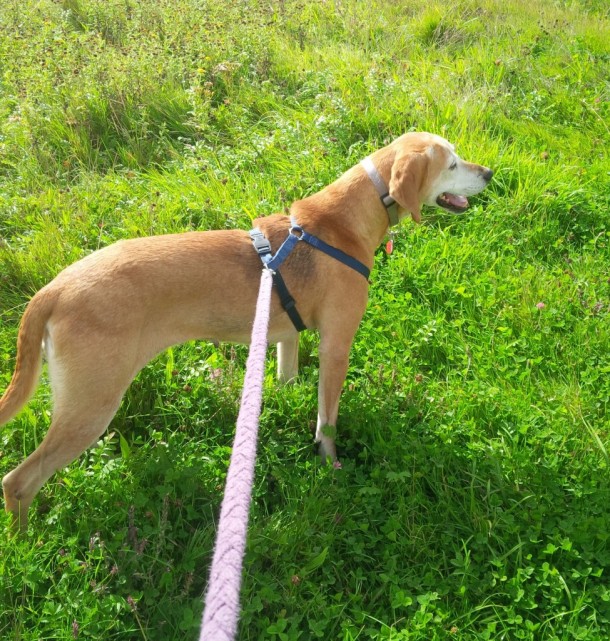 Sally is a Beagle cross who was in a dog pound in Ireland.  She was on the "put to sleep" list and had just a few days left. With the help of Mary Fox of Orchard Greyhound Rescue and Ciara Corrigan, the hound, later named Sally, was sprung from the pound and fostered until she had the necessary veterinary treatment and a passport. Then her very kind foster mum brought her all the way to Wales to meet me.
Sally is a one-off dog – much younger than first thought, a dedicated follower of her nose to the exclusion of everything else. She has had some adventures since arriving here. Once, when I dropped her lead, her nose led her down a grassy bank, across a river and into a scrubby area not far from a motorway. That was a bad moment. Thankfully a kind cyclist went off to search for her and found her very quickly. Her next escapade was disappearing from a locked field. In 14 years no dog has ever got out of that field – well, except George, but he's tiny and doesn't go anywhere. Sally slithered and wriggled under the fence through a space that looked as if it would defeat a rabbit. I could hear her baying in the distance as she had obviously run something to ground. But the area was impenetrable and all I could do was wait and pray that she would return. She did – 4 hours later. Needless to say she is now on a long line when we are out and about. And the field has been made Sally-proof (I think).
She is the most wonderful dog with a big heart and a sunny nature. She loves all the other dogs and acts as a sort of nanny to them. She has been attending dog-training classes and has shown that she has a fine brain and learns very quickly. In the hall she is a model student. As soon as we leave the hall, the head goes down and the nose takes over, and she's off. Ah well…..