Shayla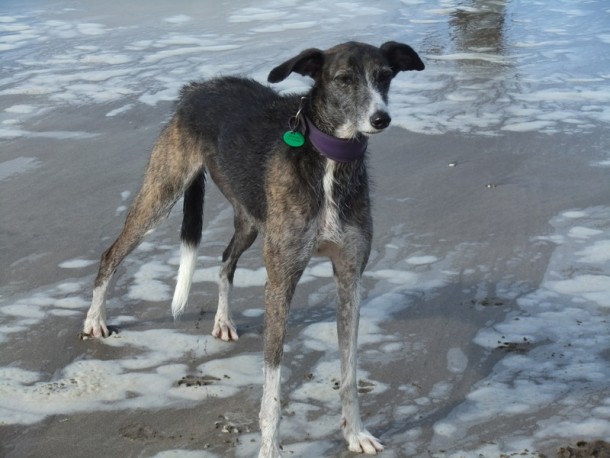 Update: On 18th August, Shayla left Kim's Home. She had been here for 7 years. We never knew her exact age. She was rescued in Ireland 11 years ago. She was adult then and so Shayla could have been as young as 13 or a few years older. My vet discovered a tumour in one of her lungs which was impacting on Shayla's general health. When her breathing became too laboured we very very sadly had to let her go. She went very peacefully at home
******************************
Shayla was found as a cruelty case in Ireland. She was thin, covered in mange and terrified. She was rescued and later fostered in the UK. She was subsequently rehomed to a family who changed her name. When their marriage broke up, the dogs were dumped.  One went back to rescue, one was sold off to an unsuitable home and Shayla disappeared altogether.  With the help of Sighthounds Online I organised a poster search for her. We knew that she had been taken from Essex to South Wales but then accounts of her whereabouts became contradictory.  Eventually we discovered that she had been left at a dog pound. But she had either been rehomed or euthanized and no-one would tell us. Eventually the poster campaign bore results and I was contacted by a family who had adopted the dog. By now she had a third name.  I visited the family and all seemed fairly OK. Before I left, I asked them to contact me if ever they couldn't keep her.
Three years later I had a phone call to say that they were moving and didn't want the dog any more. So I collected her immediately and she's now been here for four and a half years. Her last name was the same as one of my dogs and so we reverted to her original name of Shayla.
She must be nearly ten years old now. She is a sweet, sensitive dog who talks to you. She is a bold explorer but always checks in regularly when out and about. She is terrified of fireworks and of crowded places.
Other Kim's Home Residents