Morris (in long-term foster)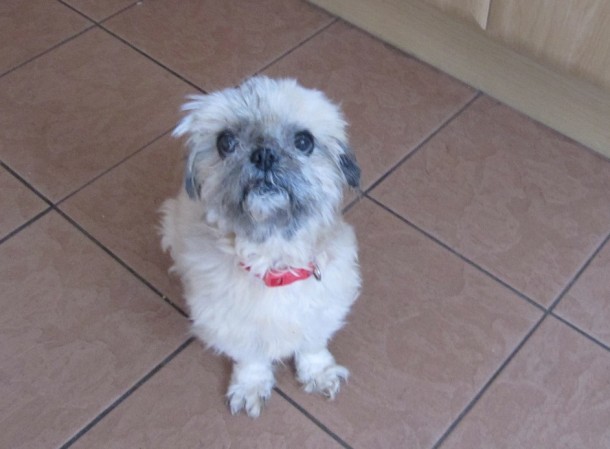 Update: Morris is now out on permanent foster to Ann Locke who has given him the perfect home.  Kim's Home will continue to be responsible for Morris' medical costs.
Here he is riding through the park in his personal chariot: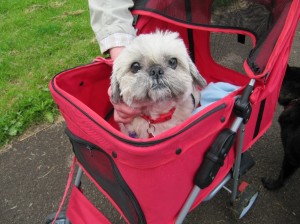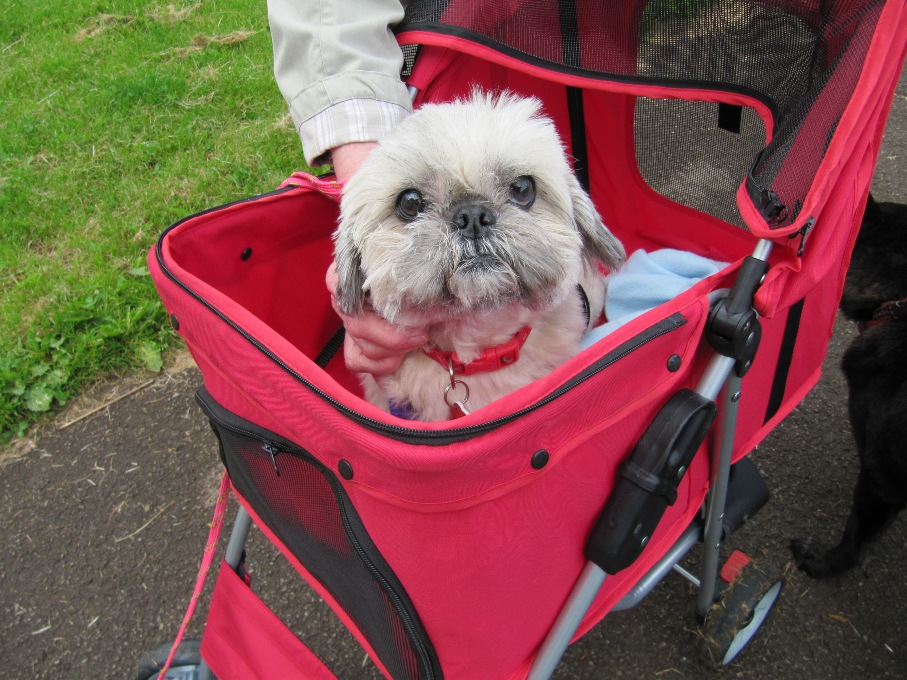 ************
Morris is a Shih-tsu, about 8 years old, who was found as a stray and taken to a dog pound. His coat was so matted that he couldn't walk at all.
When the vet examined him it was clear that Morris had a lot of medical problems: severe arthritis in his elbows, luxating patella, hip dysplasia, deformed spine, dry eye, ear infection, retained testicle and a grade 5 heart murmur. The pound had to make the decision whether or not to ask the vet to put him to sleep. In the end they asked me if I would take him because he was such a cheerful chap that they wanted him to have a chance at a happy life. So he came to Kim's Home.
Pretty soon he improved: the ear infection was sorted; the dry eye was under control; pain relief sorted out the arthritis. Sadly Morris cannot have operations to sort out the rest of his problems because of his heart condition. However, he is now mobile and very jolly.
Best news of all was that he won the heart of a person we meet in the park and has gone to live with her and her elderly Yorkshire terrier, Poppy. Kim's Home will be responsible for all the medical expenses and any other costs incurred including his favourite food. He has settled well. Friends on Facebook raised money to buy him a stroller so that he can get to the park for his ambles. And Friends of the Dogs, Wales has kindly given a grant of £200 to help us with future expenses.
Here is Morris when he was at Kim's Home. Look out for photos of him in his new home!