April 2014
April 2014
Things are as busy as ever at Kim's Home.  We've had so many fosters in and not so many out that our numbers have increased somewhat.   We peaked at 19 last week but things have eased off a bit since then.
These are the current ones

The Kim's Home permanents are all well and happy.  Freya did make it to her 15th birthday in March and is threatening to chunter on to her 16th.  She still does at least one walk a day and often two. 
Freya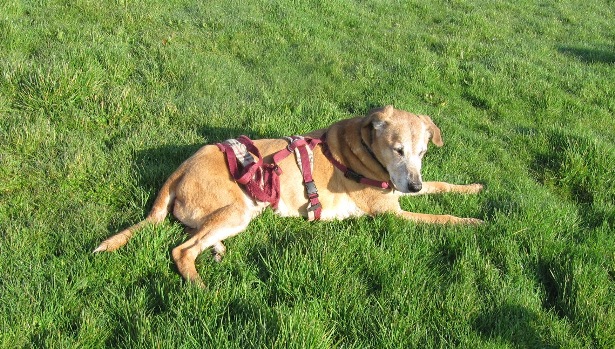 Tom, our old Springer,  has had a third stroke.  He can no longer manage stairs and his eyesight seems to have been affected.  But he's still jolly, does 2 walks a day and visits his mum in her care home every weekend.  He's a great favourite there.
Merry, our Lurcher SOS foster, went off to her wonderful new home.  Then along came Bella who had run out of time in a dog pound.  So I agreed to foster her and Lurcher SOS offered rescue back-up.  We fattened her up, spayed and vaccinated and then found her the best home in the world.  She's been there about 5 days and has settled very well.  She and her new folk are enchanted with each other.
I usually take in only one dog as a foster on top of the 15 Kim's Home residents.  But Daisy, a little Saluki cross, was also on death row in a dog pound.  Rescues all over the country were full and so once again I said I would foster and Lurcher SOS gave me rescue back-up.  Phew.  Daisy is a lovely dog, lively and engaging.  She loves playing with the other dogs.  At training class she is a model pupil. Daisy is now ready for her new home.  Could it be yours?  She needs a home where she has plenty of free running, a good varied diet, comfortable beds, coats and jumpers when it's cold and of course lots of loving.  Please contact Lurcher SOS for an adoption application form.
Daisy
Two days before Daisy arrived a gypsy/traveller friend of mine told me of a dog who was being systematically starved and beaten because he was not a good hunter.  He wanted to bring the dog to me.  Of course I had to say yes.  And so Charlie, a big, black lurcher arrived.  He was painfully thin and so terrified that he was aggressive.  He spent the first 24 hours in a crate upstairs and I couldn't get near him.  When I did manage to lasso him while he was snarling and lunging at me, he let out a scream the like of which I've never heard before.  Eventually I had to get him into the garden before the house became disgusting.  So I dragged him down the stairs on a slip lead and introduced him to a few of the KH dogs.  And that's when he started to relax.  He met the rest of the family and became a changed dog.  My wonderful dogs never fail to reassure the waifs and strays that fetch up here.  It turns out that he was only about 10 months old when he arrived.   Four weeks later he's gained 5 kilos and has become a happy chappy.  Once he's neutered and vaccinated he'll be looking for a new home.
Charlie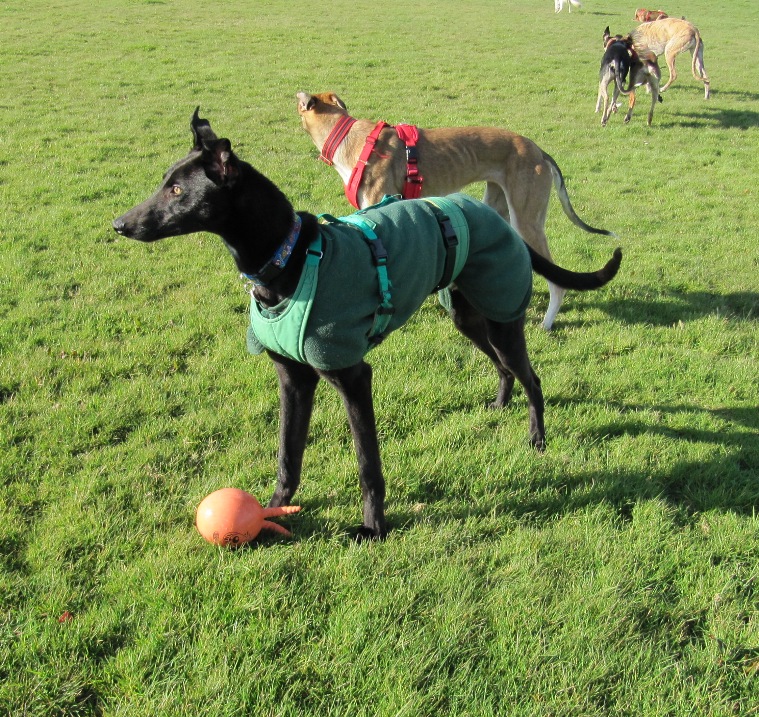 Our numbers are now back to an almost sane 17.  However, I have been asked to take in another 3 dogs and so must find somewhere safe for them to go.
We continue to look out for elderly dogs in trouble.  One person contacted me about an 18 year old Maltese cross for whom she could no longer care because she had to leave her home.  I asked the good folk on Facebook and sure enough a few people offered to give Ginny a great retirement home.  She has now gone to live with a wonderful person not far from Ginny's original owner.  So they can keep in contact.
There are two fourteen-year-old Collies in the local pound.  No-one is going to want to re-home them.  They are brother and sister and have always lived together.  Will we be able to find someone to foster both of them?  Miracles do happen.
Kim's Home, like all rescues, needs funds to help with the vet bills for elderly or ill-treated dogs.  And some very kind people have been helping out.  Tilley Farm started the Cool to be Kind project to raise funds for rescues.  They sent me 300 wristbands at a low price to be sold at fundraising events.  So please look out for us at the South Wales Dog Charity Fun Day at Fonmon Castle on 26th May where we shall be selling the Cool to be Kind wristbands – as modelled by Benedict Cumberbatch.
A tack sale has been organised at Heol y Cyw near Bridgend with profits going to Kim's Home.  This is on the 20th April.   Thank you, Gill Hamer.
And so we go on.  We are expecting an abused lurcher to be heading our way in the next few days.  Eventually she will be up for re-homing.  Please look at the Foster Dogs page of the Kim's Home website.
Thank you to those people who make donations to Kim's Home.  You are very kind.  And thanks to you we  manage to get through each month without turning away a needy dog.