New Year's Day seems an appropriate time to do a round-up of the last few months of 2015. It was July when the last update was published on the website. Plenty has happened since then.
As usual I'd like to get the sad news out of the way first. There have been losses. Howie was a little old terrier picked up as a stray and who languished for a long time in a pound. He was kindly fostered by Gemma Ahearne. He left this year after a great end of life with his last and best family.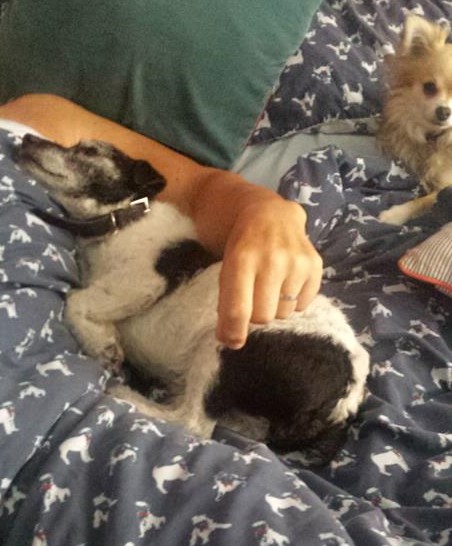 Another Kim's Home dog was Vinnie, a tiny, skinny, elderly Yorkshire terrier who also landed in a dog pound. Helen Jennings adopted him and cherished him for the last 2 years of his life. He left his loving family just a few days ago.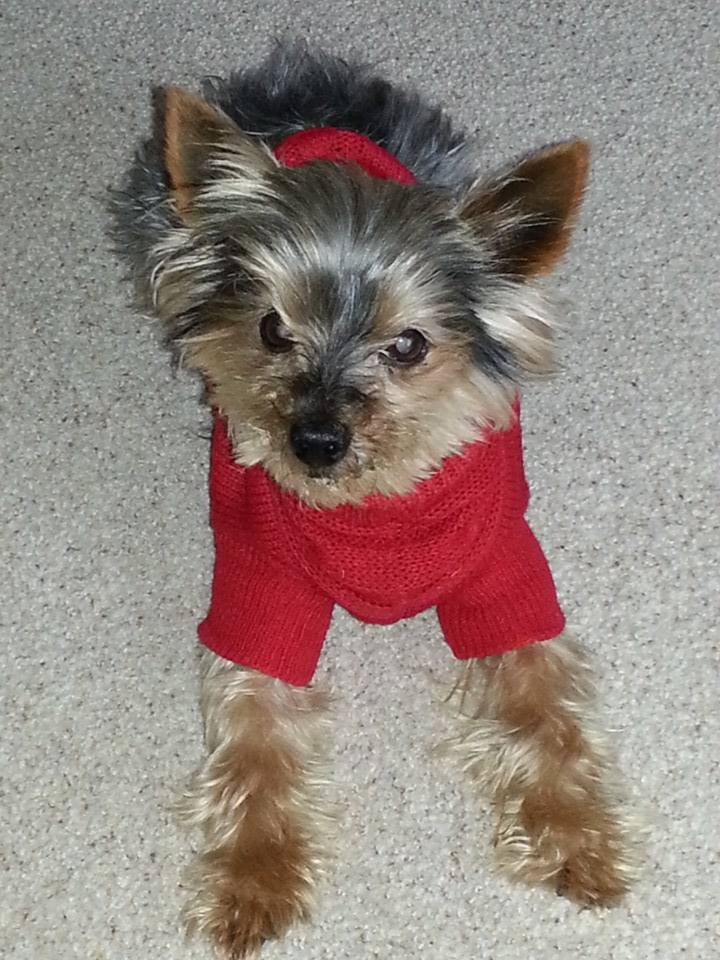 The family dogs who passed were my beloved Shayla. I don't know how old she was – at least 14 – and she contracted lung cancer. On 19th August she was struggling to breathe and I had to let her go. She leaves a huge gap and I miss her every day.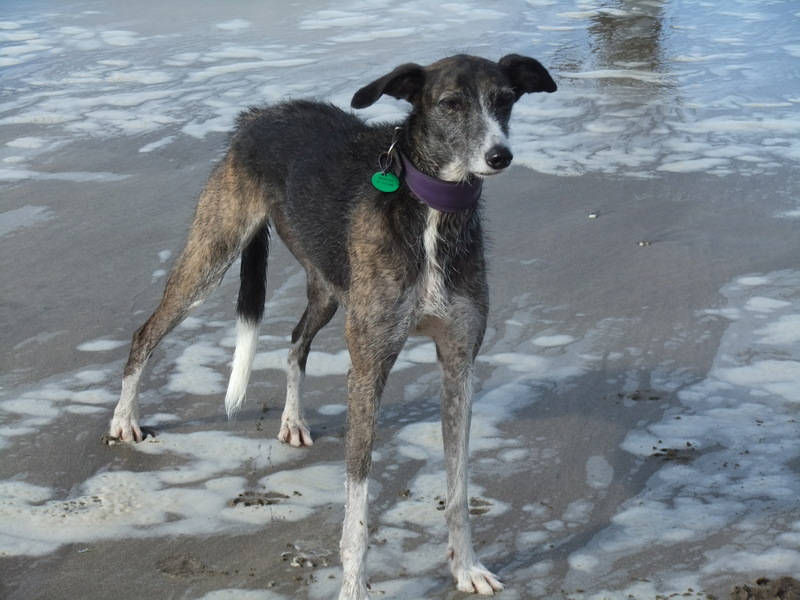 Tom came from a traveller 14 years ago and was rehomed to an active elderly lady. For 8 years they were jolly companions. Then his owner had to move to a care home and Tom came back to me where he stayed for the next 6 years. He was ancient but kept going heroically and we visited his mum every week. He left us peacefully in September.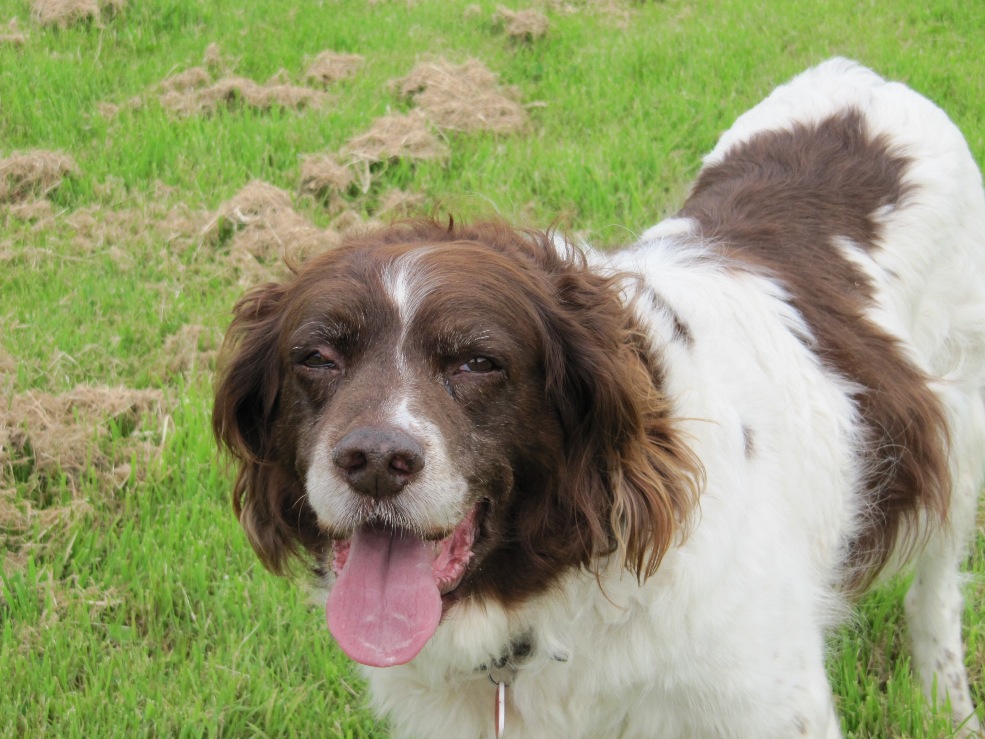 We also have some newcomers. In July we adopted Rhoda from Cardiff Dogs' Home. She is very elderly with a grade 6 heart murmur but has flourished since she arrived in July. These days she occasionally breaks into a run – which does my heart no good!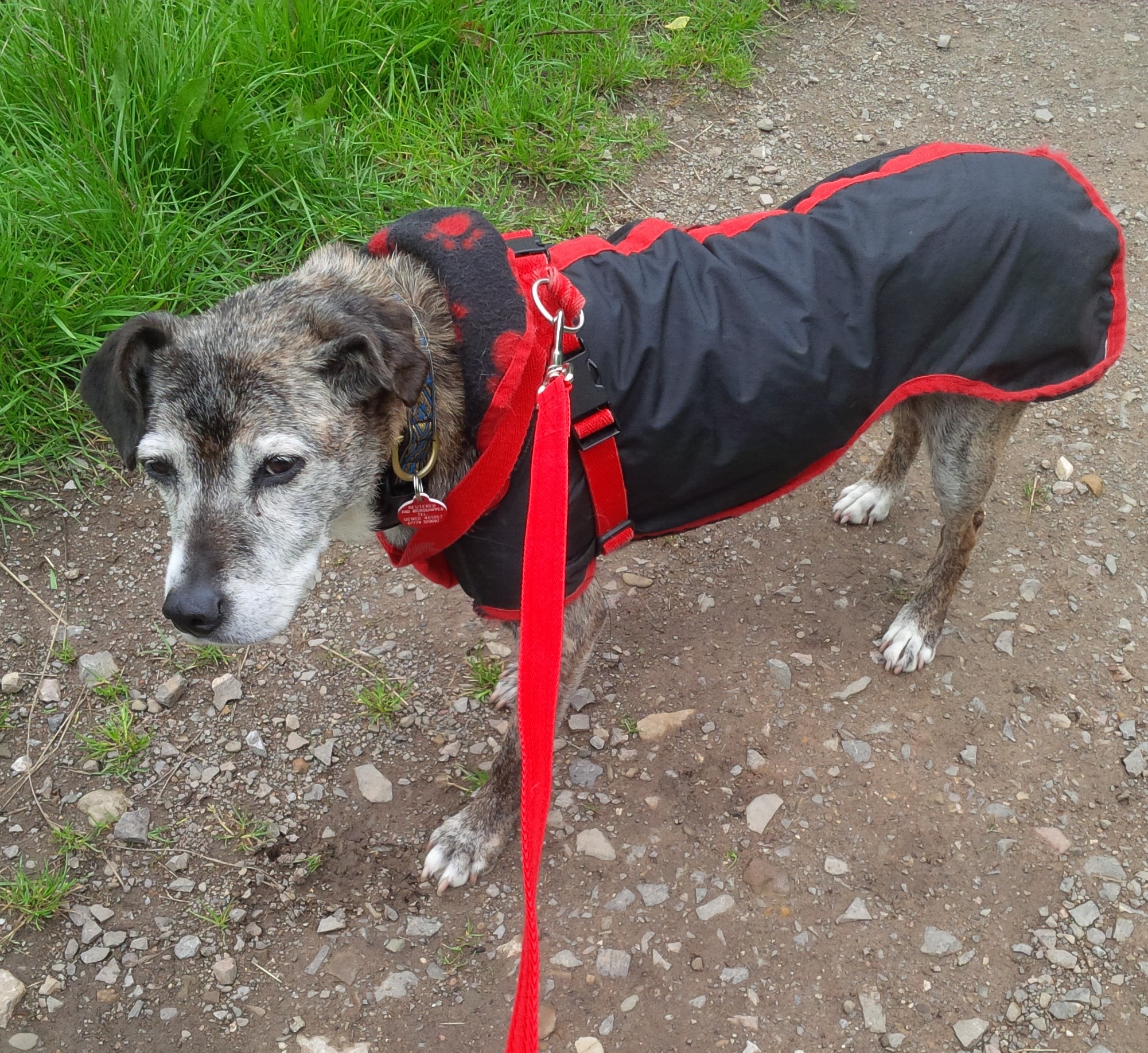 And then Kim's Home unintentionally went international. Firstly I was sent a picture of an apparently elderly hound in an Irish pound. She was on the "put to sleep" list and had just a few days left. The person who sent me the picture asked me to help. So, with the help of Mary Fox of Orchard Greyhound Rescue and Ciara Corrigan, the hound, later named Sally, was sprung from the pound and fostered until she had the necessary veterinary treatment and a passport. Then her very kind foster mum brought her all the way to Wales to meet me.
Sally is a one-off dog – much younger than first thought, a dedicated follower of her nose to the exclusion of everything else. She has had some adventures since arriving here. Once, when I dropped her lead, her nose led her down a grassy bank, across a river and into a scrubby area not far from a motorway. That was a bad moment. Thankfully a kind cyclist went off to search for her and found her very quickly. Her next escapade was disappearing from a locked field. In 14 years no dog has ever got out of that field – well, except George, but he's tiny and doesn't go anywhere. Sally slithered and wriggled under the fence through a space that looked as if it would defeat a rabbit. I could hear her baying in the distance as she had obviously run something to ground. But the area was impenetrable and all I could do was wait and pray that she would return. She did – 4 hours later. Needless to say she is now on a long line when we are out and about. And the field has been made Sally-proof (I think).
She is the most wonderful dog with a big heart and a sunny nature. She loves all the other dogs and acts as a sort of nanny to them. She has been attending dog-training classes and has shown that she has a fine brain and learns very quickly. In the hall she is a model student. As soon as we leave the hall, the head goes down and the nose takes over, and she's off. Ah well…..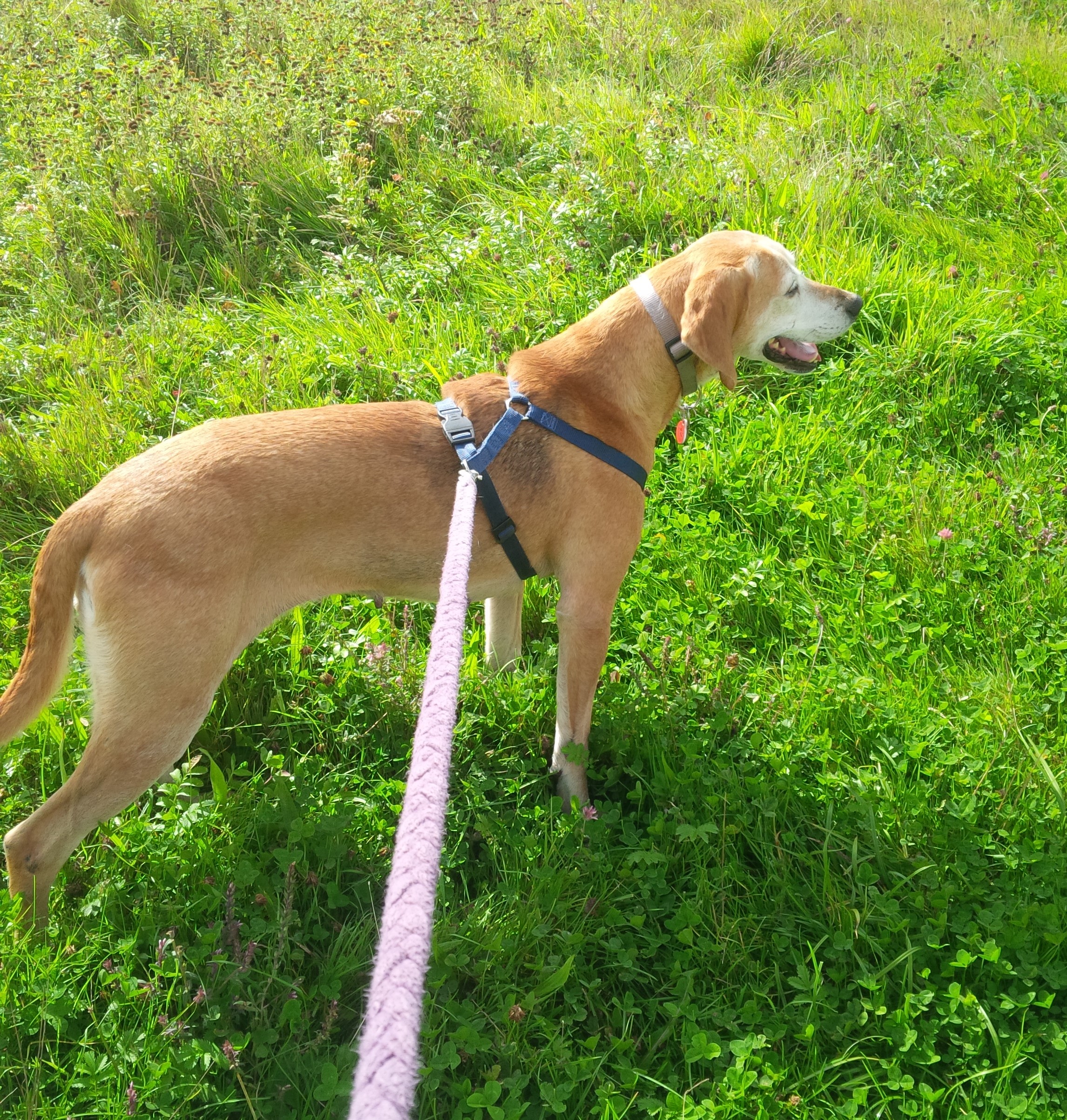 Then we went even further afield. Someone sent me this picture of a dog they called the Old Lady of Oltenita in Romania.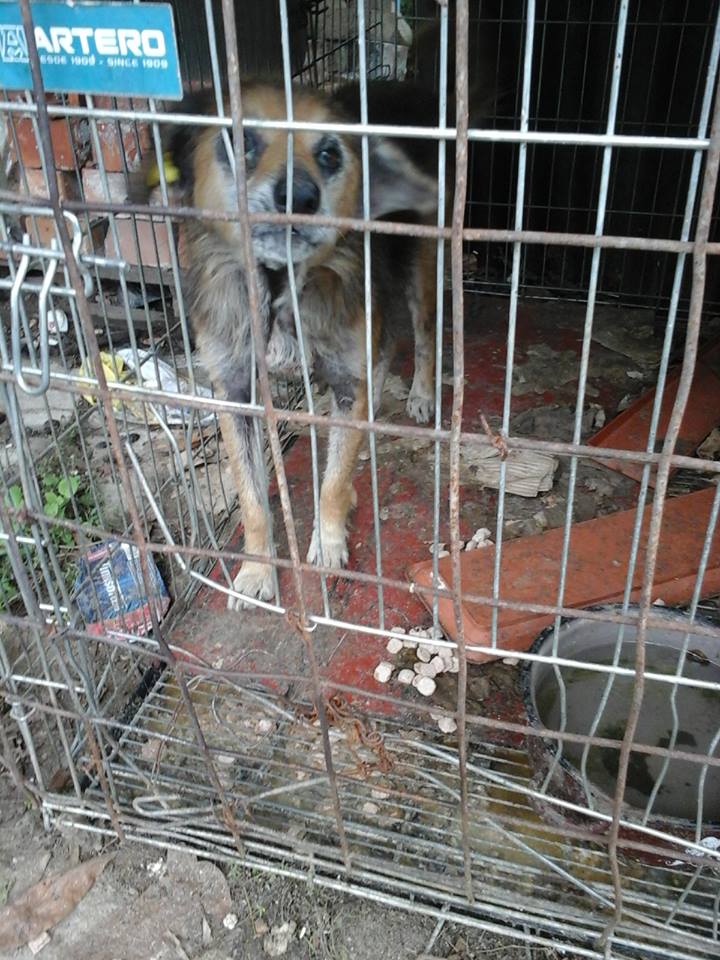 She had been a street dog – allegedly for 15 years – had been captured and was now in a public shelter and due to be killed. "Please help", the message said. But how? Anyway I contacted the original poster of the dog's picture, Margarit Mihaela, who is a dog rescuer in Romania. I sent her some funds to get the dog out. She then transported the little dog 200 kilometres to Constanta where she left her with a vet, who was also running a rescue. The vet, Luana Sabau, nursed the little dog back to health and prepared her for a journey to the UK. She arrived in November and settled straight in. She is now Vita. She loves the good life, loves the dogs, loves me and a few visitors, but barks at everyone else. She is a little star.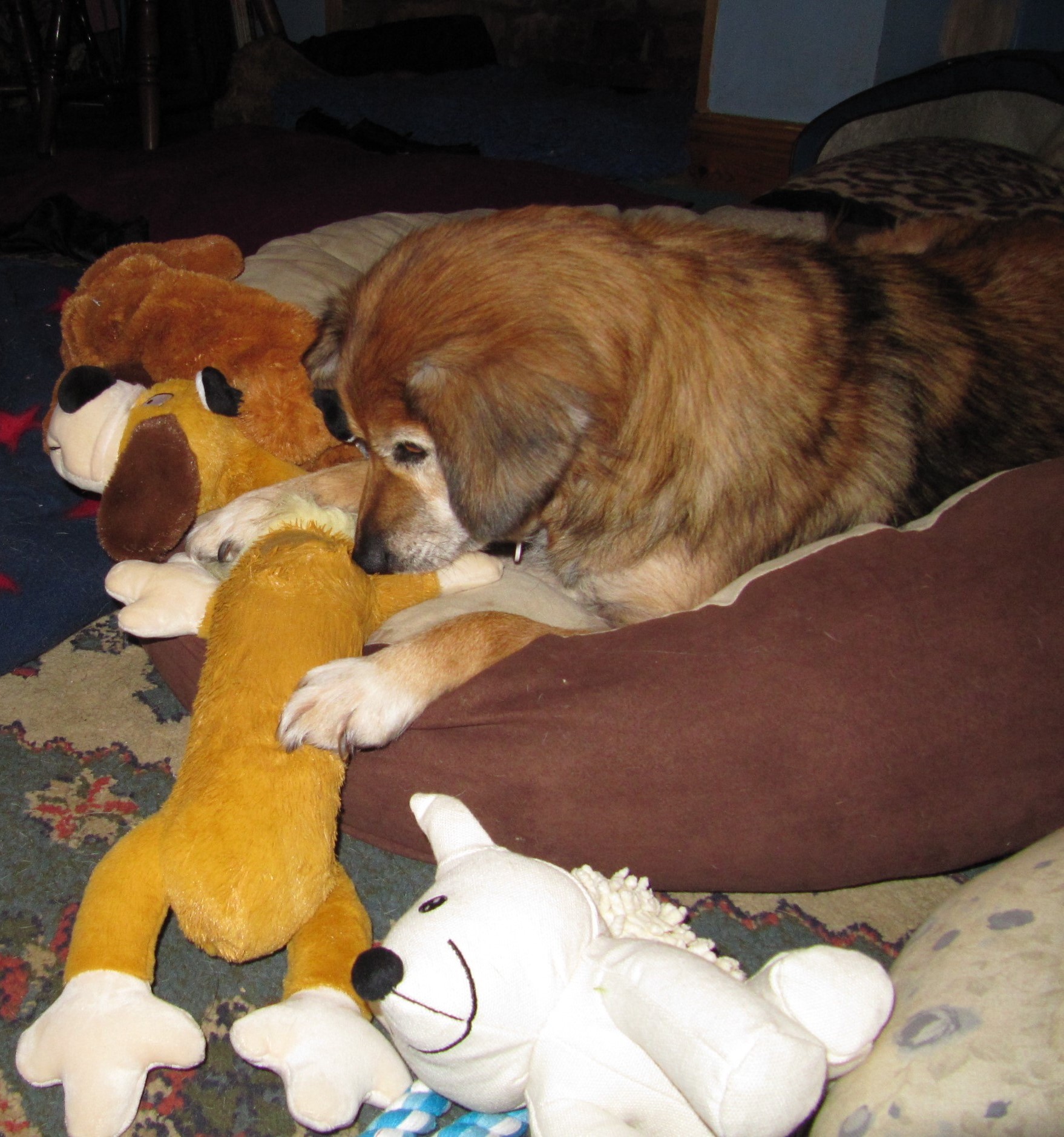 That was the start of my association with Romania. My first priority will always be to local pound dogs and gypsy/traveller dogs, but I can see how desperate Romanian dogs are. So I will help from time to time if I can. One of the best ways to tackle the problem of stray dogs in Romania who live in such poverty and who are so cruelly treated when captured, is to neuter them so that the numbers diminish over time. To that end, there is a project underway to build a Neutering Clinic in Bucharest. If anyone would like to contribute to the costs, please contact Dr Stephan Aurelian, an amazing vet, who spends all his free time neutering dogs in many different areas of Romania and even in other poor neighbouring countries. https://www.facebook.com/aurelian.stefan.9 Kim's Home has helped a few dogs come over the UK and into homes, but, in the future, I would prefer to fundraise occasionally to support the new clinic.
There is one more Romanian dog to come though. The vet who fostered Vita told me about another elderly little dog in trouble. She had been found collapsed on the street by a colleague of hers. She was very sick but has been getting stronger. If she is well enough by the end of January, Flora will travel to Kim's Home – either to stay or to move to an excellent forever home. We will see which after I've assessed her and sorted any further veterinary care needed.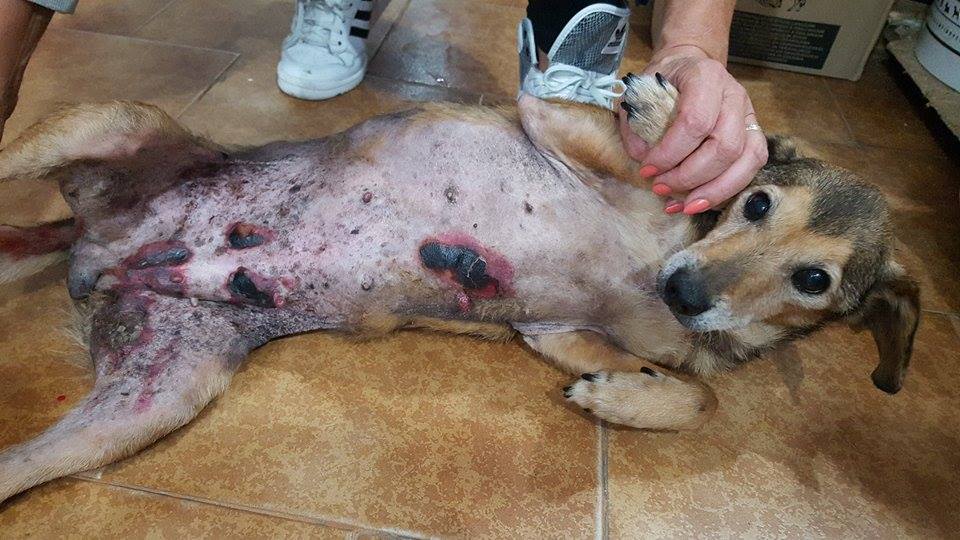 Lottie, the Lurcher SOS foster dog who arrived before Christmas last year, is still here. Her leg operations were successful. She had another op to remove 4 mammary tumours. These turned out non-malignant and so Lottie was put up for re-homing. In November she went into foster for 10 days with a lovely couple while I took the Kim's Home dogs on holiday. It seemed likely that it would prove the perfect home for her. And I hoped that her foster mum would fall in love with her and want to keep her. Well that bit happened but Lottie would have none of it. She pined for us. It has now been decided that she will stay here forever. She is now having fun again – off-lead and scampering about. Lottie has also found her vocation in life. She has taken over from dear departed Tom as visitor to a care home. She is perfect at it and greets everyone as well as Tom's owner.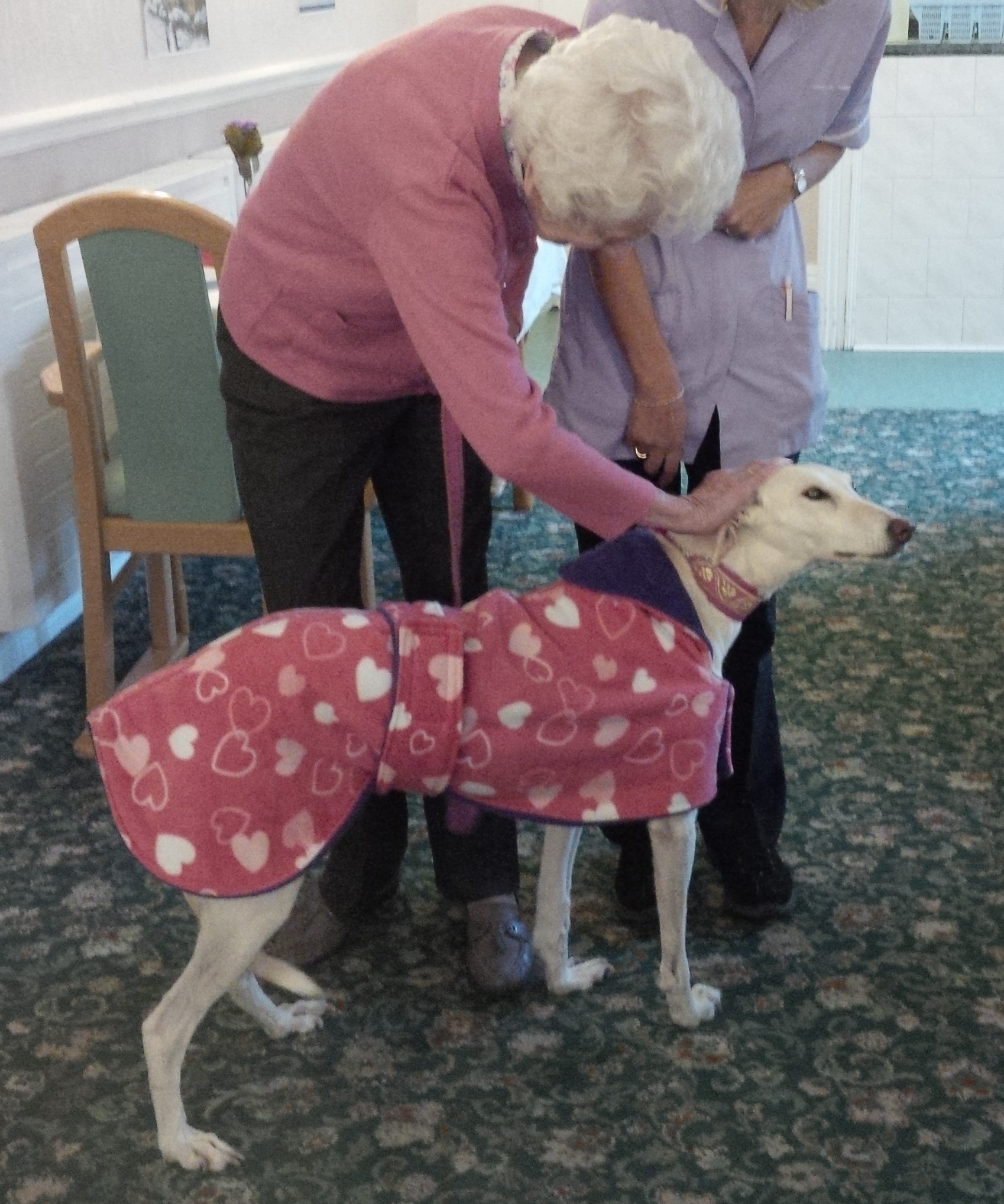 We fostered another LSOS dog for a few months – middle-aged, depressed-looking Fletcher. He soon perked up. And, when he was let off-lead in a locked field, he took my breath away with an astonishing turn of speed. He out-ran all my dogs with glee. In December he moved to a lovely forever home where he is adored.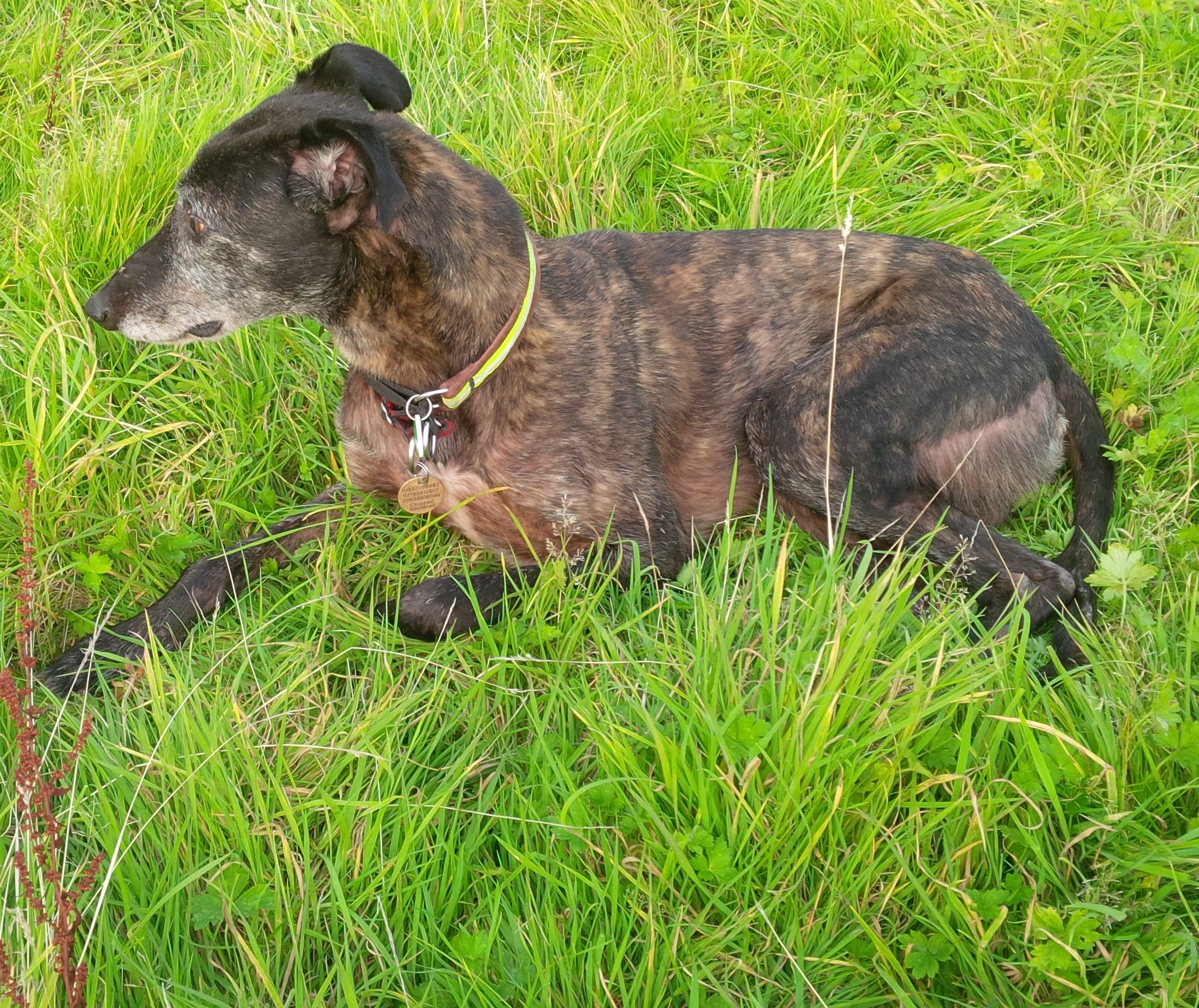 The feeling of dread that I had in July was well-founded. Those pesky Saluki pups, Stella and Arthur, stayed and ruined my house and my life. I love them dearly but…………..oh dear, they can be difficult. Never mind, things are improving and gradually they are becoming good citizens. I might be kidding myself there.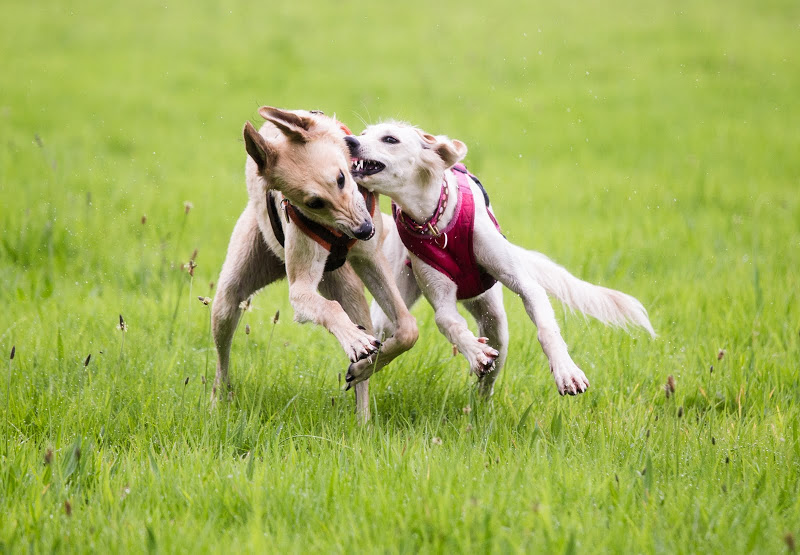 In November we had our usual holiday in West Wales. It is primarily for the dogs because they have masses of land to run in and also a daily gallop on the beach. It was particularly great for me as well this time because I was joined by my daughter and her partner from London and also my son, daughter-in-law and baby grand-daughter all the way from Chicago. The dogs were beautifully behaved with a little toddler and all was well.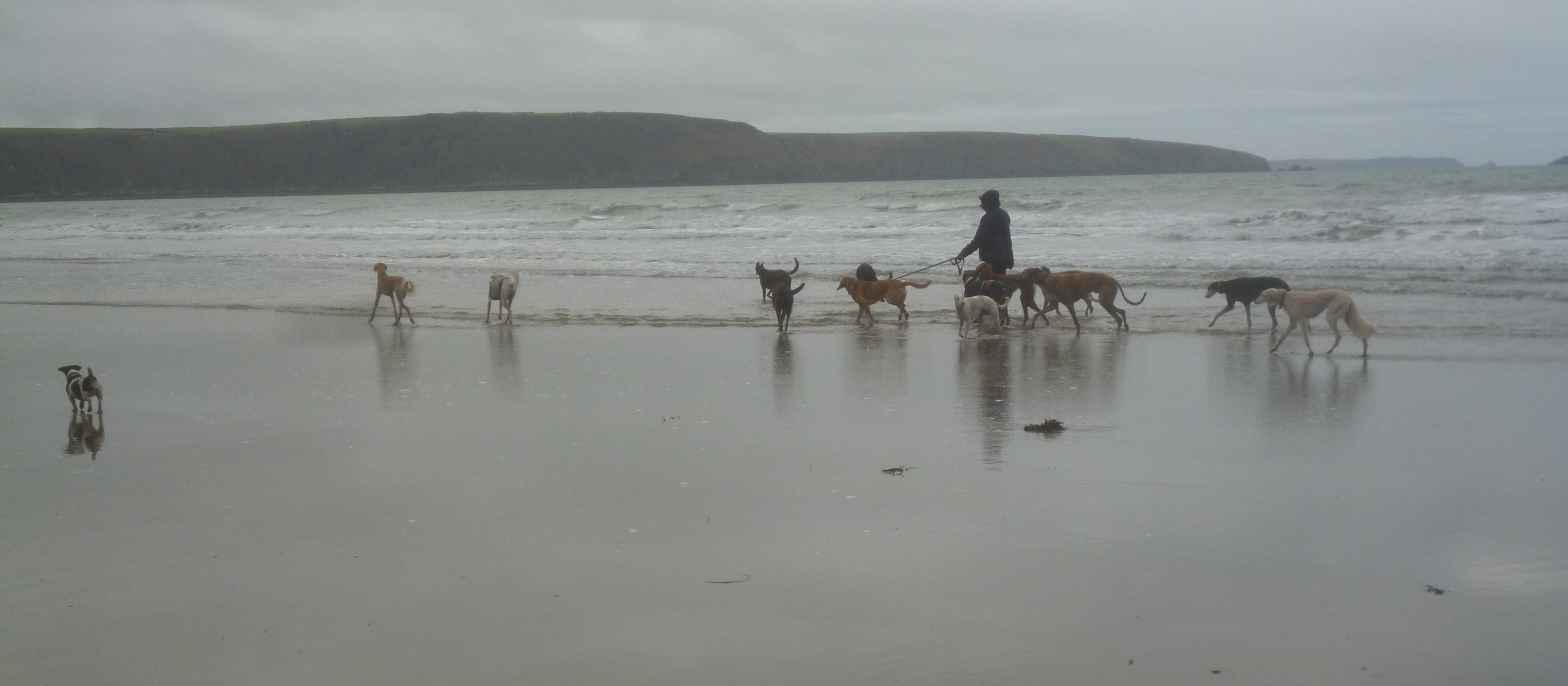 Once again I would like to thank all the people who have helped me with Kim's Home either by donations, running fund-raising events (thank you, Caroline Mathews), gifts, transporting (especially Lucy Blight who has done a heroic mileage during the year for Kim's Home dogs) and any other form of support.
One of our supporters, Fiona Kelly, not only ran fund-raisers to collect funds for Sally, Vita and other Romanian dogs, but she also wrote to some dog food companies to ask for donations of food. Lily's Kitchen responded kindly to the request and sent a massive amount of food here. There was so much! It took 3 men over an hour to unload the lorry. It filled a bedroom from floor to ceiling. Since my dogs eat mostly raw and because the food was close to its "best by" date, I decided to share it. So 152 kilos went to Greys Eleven Plus, 152 kilos to Eli Romanian Rescue, about the same amount to Strayaid in Durham. More went to smaller local rescues. After several months we are now getting towards the end of it. Thank you Fiona and Lily's Kitchen.
Here's Fiona with Sally and Vita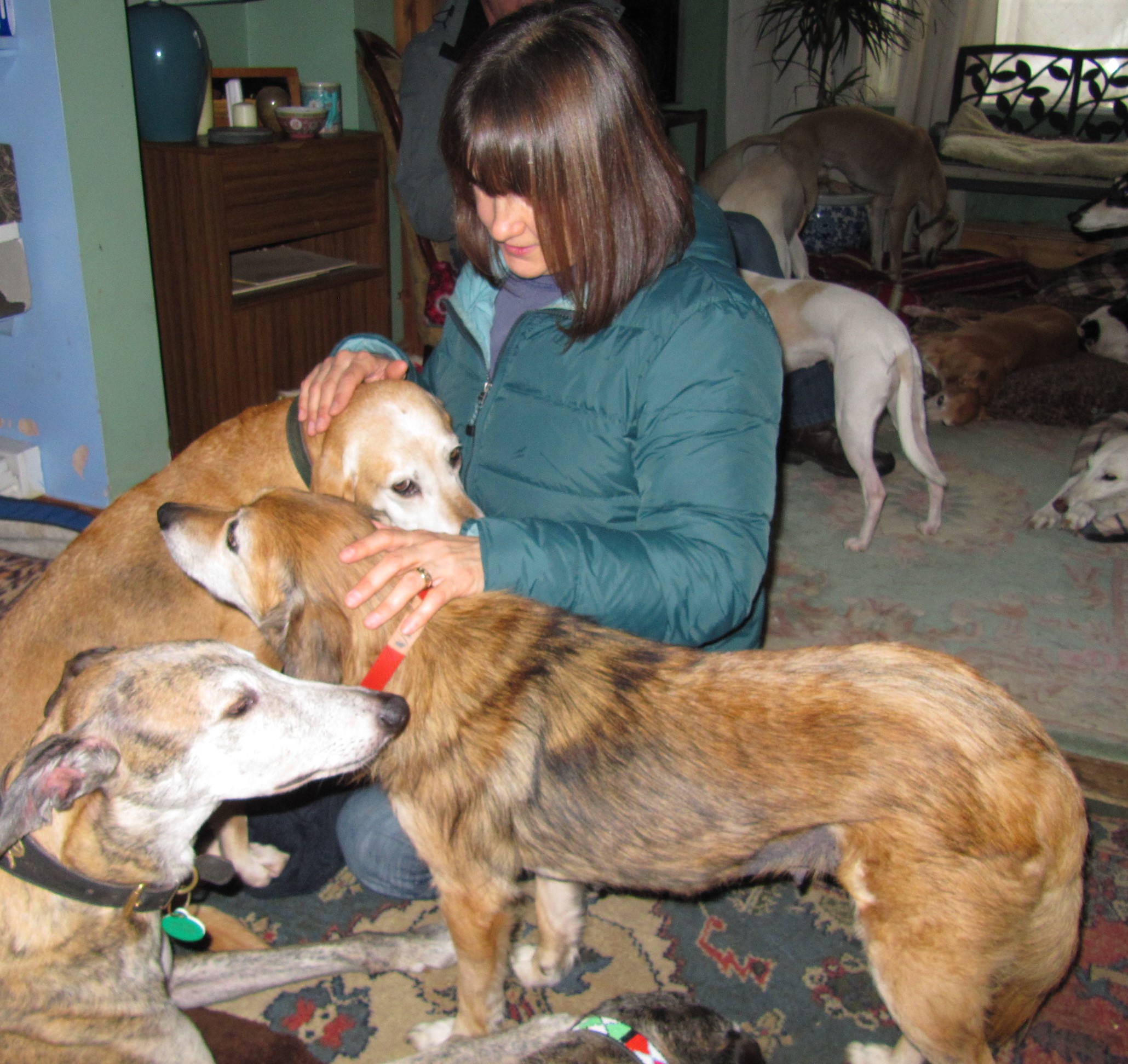 So what will 2016 bring? More dogs, I suspect. However, I hope to foster more out or to find them excellent forever homes. I really can't take in any more myself. There's only me here and I already spend most of every day trudging round the countryside to make sure that all the dogs get free runs twice a day. I do 5 walks a day and don't think I can fit in any more dogs.
One of my main aims for this year is to find a field for my dogs. The one I have been using on weekends for the last 14 years passes into the hands of the demolition crew on Tuesday, 4th January. And then life will get really hard because then I shall have to do 5 walks a day even on the weekends.
One other thing I must do this year is to submit the necessary paperwork to the Charity Commission and apply for Kim's Home to be registered as a charity. I have hesitated for a long time before doing this because I prefer to operate independently. However, I shall have a small group of tried and true trustees to help me steer the rescue/sanctuary.
Finally I'd like to wish you all a happy, healthy, interesting and fulfilling 2016.
Wendy and the Kim's Home dogs: Ruby, Bayleaf, Grace, Griff, Zoe, Hebe, George, Emma, Lucy, Nell, Charlie, Dolly, Lottie, Stella, Arthur, Rhoda, Sally, Vita.