So what were we up to at the end of 2013? 
Well….  a mix of things as usual.
Bang on mission: we welcomed another permanent member into Kim's Home.  She is Dolly, a little terrier, about 13 years old, found as a stray, micro-chipped but no owners traceable.  So she was probably dumped.  The pound rang me to ask if I could help her.  Of course she came home to us.   She is an absolute angel – clean in the house, very affectionate, runs like a rabbit in the park and like a Whippet on the beach.  She's fitted in perfectly
 
We had another visitor just before Christmas – a very tiny, elderly, toothless, sickly, incontinent Yorkshire terrier – also found as a stray.  He did his 7 days in the pound but there was no-one looking for him and so he came here too.  And then a wonderful person, Helen Jennings, offered to adopt him. She was an expert on elderly dogs having 2 of her own already.  So some wonderful volunteers, including our good friend and supporter Lucy Blight, helped get Vinnie from Cardiff to Durham.  Since landing with Helen, Vinnie's health has improved amazingly:  his cough has gone, he is no longer incontinent and he has put on weight.  He gets on well with her 2 other little dogs.  Don't you just love a happy ending!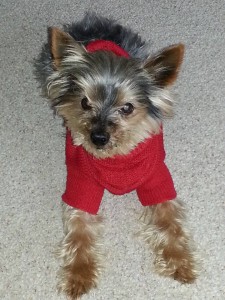 At the end of November I packed up the van and set off with my daughter and 15 dogs for a week in West Wales.  We stayed at Four Acres, part of the

Little Dumpledale Farm

holiday place.  We go there every year because it has an enormous safe garden, a paddock, lovely walks just opposite the house and beautiful beaches not too far away.  The dogs had a great time and it was a holiday for me too since we didn't go to the beach every day and so I didn't have to drive the dogs about all the time.  Just a note:  Kim's Home funds are not used for holidays, vets' bills, food bills or insurance.   My personal fortune (which is my teacher's pension) pays for all that.  Donations to Kim's Home are used for the extras and mostly for helping get other dogs out of trouble.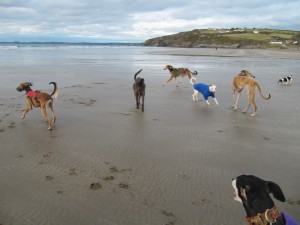 Christmas was a very sociable time for the dogs.  My daughter and her partner came to stay and my son and his wife came over from Chicago.  I thought Nell and Emma would be wrecks but they soon calmed down and were tolerant of the men if not enamoured of them.  In fact Emma did get to love Mick.  All the others were ecstatic to have so many people to make a fuss of them.  The dogs had lots of toys and everyone was very jolly.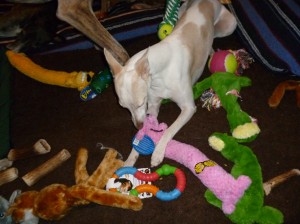 Since Christmas it seems to have been Saluki season.   I was offered 4 in one week.  One in a pound In Norfolk went to a lovely home recommended by Ann Blake who used to run Saluki Welfare.  One local to me went to

Lurcher SOS

and has been rehomed happily.  Another dog went to

GRWE

and the fourth turned out not to be a Saluki but a lurcher, Charlie, who is still looking for a home at

Croft Rescue Kennels

.  
For the last few weeks we have been fostering a lovely young dog for

Lurcher SOS

.  She was very emaciated when she was picked up and so came here for some fattening up.  Merry has been a joyful bundle of energy.  She will soon be off to her new home where I'm confident that she will be very happy.  
So that was 2013.  We lost two lovely dogs: Zak, an elderly Whippet cross aged about 15 and my lovely Lily, a Saluki cross, who had been with us for nearly 14 years.  
And that's where we are now.  Most of the dogs are well. Freya is the last left of the original dogs.  She will be 15 in March if she gets that far.  Every day is a bonus – her back legs are very weak and she has persistent urinary tract infections.  In order of arrival: Zeb, Ruby, Bayleaf, Shayla, Grace and Griff are all fine.  Tom is still recovering from his second stroke but seems happy. Zoe, Hebe, George and Emma are fine.  Lucy is still as nervous as a deer but otherwise fine.  Nell is lovely as is Dolly.
I'm hoping that in 2014 we can afford to go on helping dogs that need us – either by bringing them here to Kim's Home or by passing them to the safety of a good rescue. 
As always I really appreciate the support given to us.  I know everyone has a lot of calls on their own funds.   So we are really grateful if anyone does contribute to the cause.   I can't do it without you.
Finally I hope 2014 brings you all whatever you wish for.  I know it won't see the end of animal abuse but I hope that we can do what we can to help at least some of the dogs who are being cruelly treated.
Happy New Year from Kim's Home!